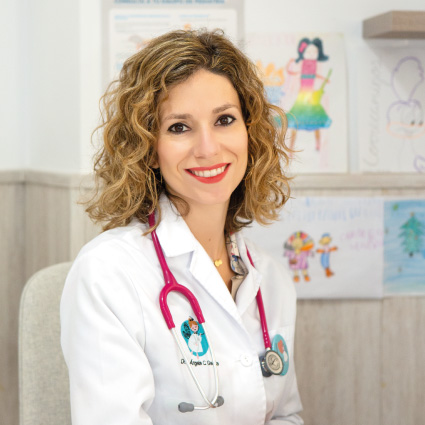 Paediatrician. Sub-speciality in Child Gastroenterology
Medical Association Member Number: 03- 4117578
Hello, I'm Dr Ángela García. A paediatrician and convinced that I chose the best medical speciality. Why? Well, because I like the closeness I feel when taking care of families and their children. Accompanying in the hard parenting process and being able to help those parents at a time of uncertainty, confusion and, of course, sickness. Seeing how they grow and how they improve is priceless.
And, why gastroenterology? Because it is a very wide and varied speciality that covers from the practice, the hospitalisation plant and a technique to apply: endoscopies. I like eating well and teach others how to eat well, as Child Nutrition is part of my job.
If you need a child digestive specialist because you think your child may have some intestinal dysfunction, growth deficit or any other gastrointestinal symptom or simply a Paediatrician, you know where to find me, at Entre Hadas Pediatría I can help you.
Experience
Consultant paediatrician. Sub-speciality in Gastroenterology, Hepatology and Child nutrition.
Medicine and Surgery Graduate by the University of Navarra in 2010.
Speciality through MIR (Medical Internal Resident) in Paediatrics and Specific Areas at the University Hospital Virgen del Rocío (Seville) in 2015.
Stay at Cleveland Clinic (Ohio, USA) in Hepatology and child intestinal Rehabilitation (2015).
Official Master's Degree in Medical Research: Clinical and Experimental. Faculty of Medicine. University of Seville (2013-2015).
Consultant paediatrician at University Hospital Vinalopó (Elche, Alicante) 2015- 2016.
Consultant at the Department of Child Gastroenterology at University Hospital 12 de Octubre (Madrid) in 2016.
Gastroenterology practice at University Hospital Quirón (Pozuelo de Alarcón, Madrid) in 2016-2017.
Primary Health Care in various Health Centres of the Community of Madrid in 2016-2017.
Consultant in paediatric emergencies at the General University Hospital of Alicante from 2017 to the current day.
Primary Health Care Paediatrician in the health centre of Monforte del Cid (Alicante) from June 2019 to the current day.